Miles often comes along when I take care of little ones, which means he's no stranger to a children's park. It's true that he doesn't enjoy those parks as much as he enjoys a dog park, but it's also true that children are known to drop food and he is happy to clean up after them.
One thing he has always struggled with is the swings. He has a love/hate relationship with them because it's so fun to chase a kid on a swing, but then the swing comes right back and hits him. He's finally learned to stay out of the way, but he can't help but bark in protest.
I found a short zip line at a children's park in Bad Hoenningen last week and just had to try it out. Miles and I were out for a run early that morning and there was no one in the park. I zipped down that cable, giggling the whole way! It was so much fun that I made Greg go back with me to capture it on video.
There were definitely more people in the park at noon than there were at 7 AM. Particularly, there were two women sitting on the park bench right next to the zip line feature; one woman was visibly crying. I felt bad having so much fun (and that there was so much commotion with Miles' barking) while she was clearly not having an enjoyable time.
This video captures it all perfectly: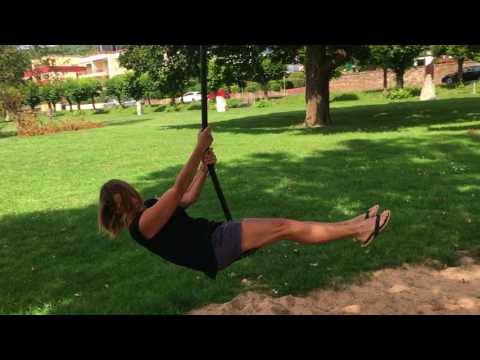 I've decided that Miles is frustrated with the swings because he wants to join in on the fun! A few days prior to this zip line incident, we were at a park alongside the Rhine River in Cologne. There was a swing contraption there that was conducive for dogs (obviously). It wasn't hard to lure Miles into the swing with me and I think his smile says it all: