Thanks for your comments and feedback on my love/hate relationship with food. It's somewhat comforting to know that I'm not the only one with this problem!
Here's another true confession: I hoard recipes. I didn't realize that it was a problem until a friend wanted a recipe for such-and-such and I just knew I had pulled that very thing out of a magazine not long ago… So I went down to the basement where I store my cookbooks and sheepishly returned to the kitchen. I had a 4″ three-ring binder absolutely full of recipes that I had pulled out of magazines or printed off the internet. That did not include the more recent stash piling up on my microwave for quick reference. Or my list of bookmarked recipes. Am I the only one??
I really do enjoy trying new recipes — and these days, I almost never try something unless I have scoured the comments to make sure it's fool-proof. I guess that makes my paper copies a little obsolete, eh? And while I do love a good recipe for inspiration, I am not afraid of the possibility of screwing something up if I make it up as I go. Like I said, I'm very fortunate for a non-finicky husband!
I promised to share a few of the things coming out of my kitchen recently, so here are two easy recipes as a start. I will provide more over the coming weeks, giving credit where credit is due — many of these recipes come from fellow bloggers I follow. You should check them out for more great recipes, especially if you are getting on the vegan and/or gluten free bandwagon! Also, you'll see their food photography is MUCH BETTER than mine. One of the occupational hazards of being a food blogger is sacrificing a hot dinner for a photograph — I am not there!
+++++++++++++++++++++++++++++++++++++++++++++++++++++++++++++++++++++++++++++++++++++++++++
VEGGIE FRITTATA (compliments of a book club member!)
11 eggs (you could probably use Egg Beaters for some or all of this)
1 leek, thinly sliced
1 bunch fresh spinach (you could use frozen – thawed and drained)
1 ~1/4 lb. ball fresh cow's milk mozzarella (I used 2 wedges Laughing Cow Swiss + fresh goat cheese)
Salt to taste
2 T butter
1. Preheat oven to 425. Saute the leeks in a little water by themselves until very soft, then add the spinach.  Cook until the water is evaporated and salt to taste.  Let cool slightly.
2. In a bowl, whisk the eggs until a bit foamy, maybe a minute.  Add the leeks and spinach, mix well.
3. In a frying pan (one that will transfer directly to the oven — cast iron works best) melt the butter, making sure to coat the sides as well. Pour in the egg mixture.
IMPORTANT: DO NOT MIX ONCE YOU POUR IN THE FRYING PAN – WILL MAKE IT STICK – THAT WOULD BE BAD.
4. Cook on the low while you break up the cheese and distribute on the top of the frittata. Then transfer to the oven and cook for around 15 minutes or until starting to brown on the top.  Take out and let cool before trying to remove from the pan.  It actually tastes best when just warmer than room temperature.
Substitutions: This is a versatile recipe that also tastes really good when made with potatoes, mushrooms, shallot or leek, really good with shredded zucchini.  Basics are just eggs, cheese, and something from the onion family.
This was served with dinner at book club, but I think it would also work well as an appetizer, if sliced into small enough pieces. Greg and I had this for lunch last weekend, then were able to reheat the leftovers for two breakfasts each. Yum!
+++++++++++++++++++++++++++++++++++++++++++++++++++++++++++++++++++++++++++++++++++++++++++
AMAZEBALLS (compliments of The Fitnessista, including all photos. Thanks, Gina!)
2 T vanilla or chocolate protein powder (I happened to have both on-hand, so I use one of each)
2 T almond butter
2 T shredded unsweetened coconut (Unsweetened is critical. I found mine at Whole Foods)
1 T honey (pure maple syrup or brown rice syrup would work)
Pinch of each: sea salt and cinnamon
1. In a small food processor, add the protein powder + almond butter + coconut and pulse until the ingredients are well incorporated.
2. Add the cinnamon, sea salt and sweetener (honey or whatever you decide to use) and pulse again. The mixture will start to clump together.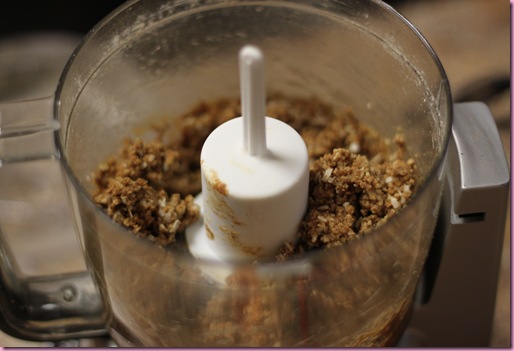 3. Add in 1 square of extra dark chocolate (break it apart with your hands), or whatever mix-ins you'd like to use. Dried berries would be delicious. Pulse together one more time to finely chop the chocolate, and assess the situation to see if you'll need more liquid sweetener for the balls to stick together.
4. Roll mixture into 4 balls with your hands.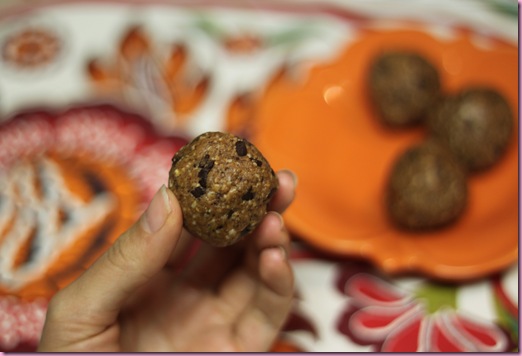 Save in an airtight container if you can stop yourself from eating them all on the spot. I keep mine in the fridge. They're the perfect snack at only ~130 calories each, and I swear they taste like raw cookie dough!